Floods
When weather, a giant spill or a leaking or burst pipe get's everything wet, just call us. We ALWAYS carry antimicrobials to kill bacteria and odor, dryers to blow it dry and a concern about protecting your health and property from as much damage as possible.
If necessary, we'll lift carpet and move furnishings to accelerate the moisture removal as well as killing bacteria and odors and prevent mold at a moments notice. We do it all the time.
Wet carpet restoration is more of an in depth process than it appears at first glance, and ensuring that it's done correctly is an important part of water damage prevention.
WHAT CAN YOU DO ON YOUR OWN? LOTS!!! The sooner you take action, the less damage you'll have. EHOW (at this LINK) has some great advice for you. Don't wait because mold and bacteria won't!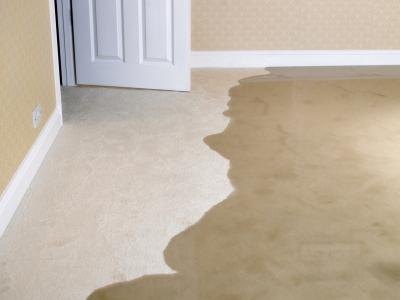 Whether it's due to a leaking pipe, stormy weather, or any other cause, flooding and pooling of water can cause serious problems in your house. While the damage may appear contained in one area, water can easily seep between materials and spread damage farther than is immediately discernible. Water seepage into floorboards, drywall, base boards and more can cause a variety of long term problems like rotting, crumbling, warping, and the growth of mold and mildew.
Water damage accumulates slowly over time, seeping deeper and deeper into your home with each day and becoming more complicated and expensive to repair. If simple issues like wet carpet restoration aren't taken care of properly in the first place, the water damage that they cause can be very serious by the time it's discovered. Making sure that your minor leaks and floods are handled correctly the first time around prevents larger and costlier repairs down the road.
When you choose our friendly, experienced and professional technicians to take care of your wet carpet restoration, you're choosing people who know how to get the job done right so you can rest easy that future problems will be remedied.
Each one of our talented professionals works to provide detail oriented, thorough assessments of your wet carpet restoration needs to ensure that your issue is taken care of right. There's no reason to choose a quick fix when it comes to leaks and flooding, you'll just wish that you hadn't a few weeks or months in the future. When you're ready for a fast, effective and thorough wet carpet restoration, don't hesitate to get in touch with us. We're happy to answer any questions that you might have. Call us today!
Wet carpet restoration that you can count on takes more than just the right tools and the best professionals, it also takes experience, knowledge of construction methods, access to the best antimicrobial treatments and drying equipment. When you choose us to take care of your flooding issues, you're choosing a company that's been helping people just like you for more than 25 years. We absolutely understand the importance of proper "FIRST STEP- WATER REMOVAL" restoration, and aim to prevent future moisture problems by taking care of your issues right the first time.
You'll see that we're committed to delivering the long term solutions that really last, and not just a quick clean-up that works for today. With our fast, effective twenty four hour response capabilities, you never have to feel like you're alone with your flooding problems. There's no reason to settle for less than the best when it comes to your water damage, flooding or leaking issues. Give us a call today to learn more about how we can help!
Twenty four hour response team available

Friendly, well trained and experienced professionals

Customer service that you're sure to love
Our customers' satisfaction is our number one priority in everything that we do. You'll see immediately how hard we work to deliver the best solutions each and every time, and how much we care about your overall experience. If you've got flooding, leaking or other potential water damage issues, we want to hear from you. Call us today to learn more!
216-292-6334
or send an email that we WILL recieve and respond to, as we have emergency phones with us constantly.
info@fiberguard.net